Winter Vacation:
The Winter Vacation for Class 1 – 12 begins from 8th January, 2023 until 22nd January, 2023. There will be few creative assignments for all the students. So, we request all the parents and guardians to make their ward put efforts and their dedication. The school resumes from 23rd January, 2023.
Result Day:
The result of Second Cycle Test (7 – 10) and Third Continuous Assessment is scheduled on 7th January, 2023. So, we heartily request all the parents and guardians to come and receive the ward's result. The result distribution begins from 9am until 12 noon. Fee Clearance until the month of Mangsir is a must to receive the result.
Appointments:
We have appointed Optional Maths Teacher, School Nurse and 2 Hostel caretakers. They have already resumed their work. We wish their pleasant work experience in the school. Below are the names of the staff:
Optional Math Teacher: Nirmala Khyaju
School Nurse: Pratigya Ranabhat
Hostel Caretakers: Gayatri KC and Anita Thapa
Silver Jubilee Inauguration of the School:
The date was 2055 Baishak 29 when the school was formally launched. 25 years ago, a thought flashed across the productive eyes of a few friends who met over a cup of tea in the Himalayan Horizon Respected Prof. Dr Suresh Raj Sharma Founder Vice Chancellor Kathmandu University, Mr Bel Prasad Shrestha Former Mayor Dhulikhel Municipality and Mr Aidan Warlow Founder Principal of Kathmandu University High School (KUHS). The thought merged, formed the seed and the Journey of KUHS started with the intention of imparting quality and value-based education. The school started with 65 students and five teachers. Since then, it has been 25 years the institution continues to enlighting minds and shaping futures.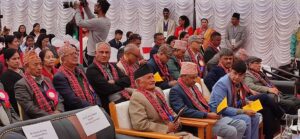 A special Inauguration programme was organized on Mangsir 24, 2079 to begin the silver jubilee activities. The programme started with the lamps lit by the former Chief Justice and Chairperson of the Council of Minister, Honourable Khil Raj Regmi. Various musical and cultural performances were performed by the students in the programme. Most of the Kathmandu University and Dhulikhel hospital families and the pioneer leaders of KUHS were in the programme. The founder vice chancellor Prof. Dr Suresh Raj Sharma, Vice Chancellor Prof. Dr Bhola Thapa, Former Chairperson of the School management committee Prof. Dr Rajendra Koju, Chairperson of School Management Committee prof. Dr Laxman Gnawali and School founder member Mr. Bel Prasad Shrestha spoke in the programme. It was a very special day for the whole school. The felicitation to Prof. Dr Suresh Raj Sharma and the contributors was the major programme in the inauguration.
This is the beginning. The school has made a calendar with various activities to celebrate the silver jubilee around the year. Different sports and non-sports activities, the Plantation programmes, the Publication of Smarika, felicitation, Blood donation, various social services activities etc. will be the activities in the days ahead.
: Principal
Tour and Trek Programme
There are several trek and tour programmes scheduled for Class 7, 8, 9 and 12 in the winter vacation. Please encourage your ward to participate in the programme. And please, let us know their experiences once they are back from the programme. We wish a successful and memorable programme. We invite parents to attend the Orientation programme of the tour programme on Saturday, 7th January, 2023 at school. Below is the schedule of the programme:
Class 7: 10am
Class 8: 11am
Class 9: 12 noon
Please deposit the tour amount in the given bank account: Nepal Investment Bank, Banepa Branch,
Ac. No.: 00505030250122
One more Skill Lab begins in KUHS
We make a living by what we get, but we make life by what we give. Only a life lived for others is a life worthwhile and this is possible by abiding in various humanistic organizations and activities.
To prepare human being with knowledge, attitude and skill is the main objective of KUHS. To fulfill this objective KUHS is creating various platforms for our students. i.e Child Club, IA, SQC, MUN, Scout etc.  Moreover to these, recently with the collaboration of the Rotaract club of Kathmandu University High School of Medical Science, Interact Club is for young people of age 12-18 to develop leadership skills while discovering the power of service above self. The benefits of this club is to connect with people in community and around the world to take action to discover new culture and promote international understanding to become a leader in school and community and to develop personal integrity and skills.
On 21st Dec, with the facilitation of the immediate president of Rotaract club of Kathmandu University High School of Medical Science Dr. Shreya Shrestha and Rotaract Shankalpa Bhusal the Interact club is formed in KUHS. Anwesha Wagle is selected as the president of this club and Ronak Shrestha, Samyam Pokhrel and Merisha Shrestha are Vice-President, Bikendra Shrestha is the Treasures respectively. Rest of the students holds the responsibilities on the various additional areas.
Congratulations and Best wishes to all for the creative and constructive deeds in future!!
: Ganga Luitel, Club Coordinator
Interact Club KUHS
A Visit to Namobuddha
We came to school have lunch and went to Namobuddha. We visited the temple and hiked to a spot and had snacks. It was a very beautiful place with prayer flags. It was a nice trip.
: The Students of Grade 1
Our Trip to Godawari
We went to Godawari educational trip few weeks back. We saw many types of plants. There were many waterfalls, rivers and bridges. We took many photos and videos and ate delicious food such as chips, chocolates, juices and biscuits that we took. We had so much fun there and we enjoyed a lot.
: Arshee and Susim, Grade 3
Learning outside the School
Being into the woods of Namobuddha is always fun. In the morning, first we went to fill our water bottle then went to the toilet at school. We had a quick lunch, went to the bus and reached Namobuddha. We sang songs, played and some of us ate food.
We had singing competition between girls and boys. We had a lot of chitchat with our friends and made some jokes. It was very fun. We saw bells, diamond, Tika, statue of Buddha and 2 guards. We also saw painting of people and dragons. A wall carved statue was there where Buddha was feeding his flesh to cubs. We saw many stores. It was very fun but boring because we walked and walked.
Finally, we sat down in a place to eat and had lots of fun.
: Aarambha Sigdel and Nikhil Shrestha, Grade 4
Godawari Excursion:
On November 15th 2022, class one to five with their respective class teachers and Coordinator sir went to the Godawari Botanical Garden for an excursion. Our sources of transportation were school bus. Our respective teachers looked after their class students. We started our journey from Dhulikhel to Godawari and it took us about two hours.
The day scholars brought light snacks while the hostellers were provided food by the school. We gathered up in a spot then separated class wise with their respective class teachers. Class one to three went one way and four and five went the other. We visited places like lakes, cottages, log bridges, green houses, stream, etc.
We got to observe many species of trees, plants and flowers. We were separated class wise and had a picnic in the meadow.  At last, we students and our respective teachers went home by the usual school bus routine. All of us had wonderful time and got to observe and learn something new. This excursion refreshed our minds.
: Gareema, Jiyana, Reeyan and Sarah, Grade 5
A Day Well Spent in Chhauni Museum
We visited Chhauni Museum on 7th Mangsir, 2079.  The trip became very memorable where we went to 3 museums in total. We saw many statues and jeweller from ancient times and the moon stone in the national museum. The next was military museum in which we saw the transportation means, and the weapons of the army. Last was the natural historical museum in which we saw bones of animals, insects etc. We connected our everyday learning with the things we saw at museum. The visit became very useful to kids like me since we got to know a lot about the information that is in the museum. I would like to thank our teachers Sushmita Shrestha, Uma Kutu and Ganga Luitel madams for taking care of us and orienting in this memorable and enjoyable trip. I have a humble request to take us to another trip like this!
: Grishma Adhikari, Grade 6A
Kutumba Performance
As a pre inauguration (KUHS Silver Jubilee) program you all know (Kutumba) is a very popular had been invited to our Kathmandu University High school also known as KUHS. It was a wonderful performance for the school with a huge and fantastic reaction from every student present there with glooming spirit high hopes of every bit of their majestic tunes. It was a wonderful pre jubilee performance with everyone around. Personally, I felt the spirit of the Kutumba myself not forgotten that the whole KUHS had it as well. We had enjoyed the perfect collaboration with our school, not even leaving our homes and watching them live from the school had given me already high hopes.

As expected, the spirit in our hearts raced with a tremendously rage killing performance. Starting off with the classic (horse riding dance) leaving us full of enjoyment and pleasure.
Then again slowly staring the tremendous music racing our hearts forward in that moment we felt joy, then starting slowly with the traditional (HEY!) the glomming performance left us with a memory beautiful enough for us to always remember.
Thank you all and Kathmandu University High School (KHUS) for letting us experience the fascinating KUTUMBA. I hope we will see more of the in the future.
: Shickchyant Karki, Grade 7A
Inter School Table-Tennis Tournament
We left our school at 7:30 am and reached the tournament venue at about 8:45 am. The program We warmed up for about 30 mins and waited for our match. The whole tournament was played on knockout system. Altogether 6 matches were supposed to be played including finals. The first 3 rounds were best of three. I and my fellow participant Shubha Om Koirala both cleared the first round with ease, then came the quarter finals. We both cleared the quarter finals. The semifinals were a bit hard and Shubha Om Koirala got knocked out on that round and got third position. I won the semifinals and reached the finals. The final was a best of 7 games. I won all the four rounds in a row and won the championship with ease.
We both played the tournament and tried our best. We would like to thank our coach and school for giving this wonderful opportunity.
: Durlav Gauchan, Grade 9A
Unity Child Club at KUHS
Child Club is an organization that develops leadership skill among the children. It develops social skills and teaches children to be responsible. The club provides knowledge about the child rights and connects the children to the community and the world.
On 25th of Ashoj 2022, the child club of Kathmandu University High School was established and named as Unity Child Club. It was established along with the number of 31 members from Grade 7, 8 and 9 and 15 of us were elected as the board members of the Unity Child Club. The coordinator of the unity child club is Ganga Luitel Ma'am, our Social Studies teacher.
The club was established after the training session of two days on 24th and 25th of Ashoj. The training was held under the prominent child right activist Kiran Thapa Sir. Till now, three meetings have been held under the chairmanship of Agrima Gurung.
The club is going to organize its first activity i.e., Inter House Quiz competition for Grade 7 & 8 on the 5th Jan 2023.
 : Pratikshya Shrestha, Grade 9A
Joint School Community Service, 2079
The Joint School Community service 2079 was organized by St. Xavier's School Godawari on 15th December 2022 at Shanti Bhawan, Pashupati. Shanti Bhawan is an old age home for helpless elderly women. There were six schools participating in this program (St. Xavier's Godawari, St. Xavier's Jawalakhel, St. Mary's School, Rosebud School, Nepal Don Bosco School and KUHS) with 4 students from each school. The representatives from our school were Bidish Baral, Evan Bhattachan, Agrima Gurung and Lasata Shrestha. Everybody's task was to talk to the elders and socialize with them. We got a great opportunity to listen to the stories of so many lovely elders. We helped in serving food to them, set up the tables and help them in general. We tried our best to make them laugh and we also accompanied them in singing and dancing. Lastly, we donated utensils, food and other necessities.
Overall, this was a great opportunity to help the elderly, know more about them and socialize. This program allowed us to learn more about the lives of different people and the situation of elderly people in Nepal. Finally, we would like to thank the Joint School Community, our school and Ganga Maam who went with us to this trip. This was an eye-opening experience which will remain in our memories forever.
: Bidish Baral and Agrima Gurung, Grade 9A
A Memorable Performance in Xavier's Cup, 2022
Every year in Saint Xavier's Jawlakhel a 6-A side boy's football tournament is held. It has been running since 2005. Various schools of Kathmandu along with KUHS participated in the tournament.
Recently on December 10th few weeks ago a team of twelve boys from KUHS too participated in the tournament. We went early in the morning. Our first match was against Avens school and then with Wilson Academy. We topped our group with 6 points defeating both the schools. Then after, defeating them we had to compete with AIMS school. We all played with enthusiasm and winning mentality. After qualifying for the semi-final, we faced a very strong team Saint-Xavier's Godawari. Even though, they were very strong but gameplay against us was very weak. With a score of 4-1, we won the match and we qualified for the finals. Then, in the final we faced Nepal Don-Bosco. At the beginning, we were down 1-0 and in the second half we came back with a score of 2-1.
For the first time in history of KUHS, we won the Xavier cup. Similarly, our goalkeeper won the Best Goalkeeper of the tournament. Our coach, Ram Chandra Thapa, Captain Prashish Thapa along with Keeper Suyog Kunwar and players Sugam KC, Prajul Jangam, Subhaom Koirala, Safal Jung Shahi, Saphal Dahal, Shikshan Shrestha and Roniyal Shrestha all played excellent part of their roles. We would like to thank our school for this opportunity and let us participate the games in the days ahead as well.
: Saphal Dahal, 10B
Our Well-Played Game at IGP Cup
Recently this month's 28th IGP running trophy was held in Nepal Police School, Sanga. There were altogether 16 teams of 16 schools, grouped into 4 different groups. We also got the golden opportunity to play as a team and represent our school in that big stage. Our team of players, coached by our respected Ram Chandra Thapa Magar sir, gave our ultimate best in the IGP tournament and gained lots of experience via participation.
We were grouped with 3 other schools in group B. KUHS, RMS, Ripumardini and SAMV were placed in Group B. We were able to become victorious against RBMS and Ripumardini in which two of our friends Prajul Jangam and Prasish Thapa Magar received the man of the match awards. After the two consecutive wins, we were able to take a spot on the quarter finals, which was already a big achievement for us. Unfortunately, luck was not on our favour on the day of the Quarter finals and we were eliminated by Nepal Police School, Sanga. Though, we could not thrive ahead anymore we were grateful for the golden opportunity that we got and the achievement we made.
We are all thankful for all school and the Coach exposing us to that great stage where we got to experience numerous challenges and were pushed to our limits. Hopefully our school can perform much better next time and keep involving in such extracurricular sporting events.
Pranab Palanchoke, Grade 10B
Building Diplomacy and Negotiation Skill through MUN:
Kathmandu Model School Model United Nation (MUN)-the concept of being a representative for countries and debating on the burning issues of the world with the people our own age, it always excited all three of us. As soon as, we got to know about KMC MUN being held on 18-20th Dec in the building of KMC, Lalitpur, we showed our interest to our school management who readily helped us with the registration works and three of us from grade 12 of KUHS set our 3 days journey in the valley.
As this MUN literally follows the model of United Nations Committee, among many committees, two of us (Prashna and Sagun) were assigned United Nations Security Council (UNSC). Prashna was the delegate of Belarus and Sagun was the delegate of the UK. We discussed about one of the major global burning issues "International peace and security with special preference to Russia-Ukraine war" as our main agenda followed by other subtopics while remaining one of us (Kala) was allocated in the House of Representatives (HOR) of Nepal Committee as the representative of Mahantha Thakur where she discussed about "Check and Balance in special preference to independence of Judiciary in Nepalese Law."
Apart from all the debates and researches, we got to extend our social network and meet likeminded people and all three of us had a great journey and brilliant experience in KMC MUN. Moreover, Sagun and Kala were recognized in the category of verbal mentions and Prashna got the recognition of Best Position Paper. We are immensely grateful to KMC for this wonderful platform and also our school for supporting us in our journey. We also like to recommend our fellow juniors and other friends to have this experience and develop their self-esteem as well as confidence, building diplomacy and negotiation skill well as leadership and critical thinking.
: Kala Kusum Kafle, Sagun Gautam and Prashna Shrestha, Grade 12
2nd KUHS IT Meet and Science Exhibition, 2022
We are proud to present the second KUHS IT Meet and Science Fair, an event that was initiated and planned by a group of grade 12 students who were inspired by the success of the first IT Meet held on 17th February ,2020. Our goal was to create an interactive and enjoyable event for all attendees, featuring gaming events as the main attraction, as well as science project exhibitions, art exhibitions, mini game stalls, quiz competitions, typing competitions, and food stalls.
With the support and approval of our Vice Principal and Principal to conduct the event, we formed an organizing committee and began preparing for the event one month in advance. We were fortunate to receive help and guidance from various individuals, including our Vice Principal, who helped us secure sponsorships to support the event financially and logistically. Our school staff, particularly Rupak Khatri and Rukmani Ma'am, played crucial roles in organizing the science and art exhibitions, respectively. All of the staff and participants were cooperative and interactive throughout the planning process, which helped us make the event a success.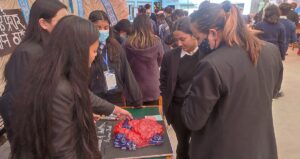 On the day of the event, held on December 16th, 2022, we faced some challenges at the start, but with the help of the organizing committee, school staff, and volunteers, we were able to overcome them and conduct the event smoothly. The program began with an inauguration ceremony led by our Chief Guest, Dean of School of Engineering, and included a token of appreciation for our sponsors. The scheduled events, including science projects, arts exhibitions, gaming, face painting, quiz competition, typing competition and food stalls, were enjoyed by all attendees, including students from other schools who were invited to participate. Calling other schools made the event move on a much higher scale on the number of attendees and led to the grand succession of this event.
We are grateful to the school for providing us with this opportunity to organize this event, and for their help and guidance throughout the planning and execution process. We also extend our thanks to all of the participants who cooperated and gave their best efforts, as this program could not have succeeded without their interaction, active participation, and cooperation.
Founding Members: Pranay Shrestha, Sujim Bhaila, Himesh Dulal, Sandesh Basnet, Suvesh Gurung